all photos by Camille and Natalie
When I first contacted Todd Taylor about doing this show review I half expected him to say "Sleater-Kinney? No, they get enough press as it is." If he had said that he would have been correct. They just don't get a lot of press from mags/sites like this one that have a more solidly punk perspective. He did say that he was put off when the group was being championed as "the saviors of rock and roll," but that he had heard their new album and liked it. In that respect, his feelings mirror mine except I was about two albums ahead of him with my conversion. So here's an old punk's perspective on Sleater-Kinney.
I got their first album in 1995 after a friend told me I'd like it. True enough, I loved about half the songs and thought the others were decent. Their second album, Call the Doctor, was where they lost me for a while. With the exception of a few songs, I did not connect with that one. About the same time the rest of the independent music-listening world did connect. Suddenly they were the darlings of Spin, Rolling Stone, and tons of alternative weeklys everywhere. Whenever this happens, it usually means a large publicity firm has been hired to push a band. The media blitz makes it hard to distinguish who is having a genuine response to the music from those merely being led by the hype machine. People with punk backgrounds like Todd Taylor's and mine usually steer clear.
My disenchantment with them continued through their third album, Dig Me Out, but it was their fourth, The Hot Rock, that started to turn me around. I had grown tired of the trademark Sleater-Kinney sound. Once they began to experiment and break out of their previous boundaries, I thought their music took a giant leap. I thought their fifth album, All Hands on the Bad One, was even better, and the hype didn't seem to bother me so much anymore. I had never seen them live and when I saw they were playing close to where I live (well, as close to me as they ever play) I decided to go. I wanted to buy their new album weeks before I went to the show, but I walked out of my local, independent chain store when I saw the $15.99 they were asking for it. I later bought it at the show for twelve dollars and it came packaged with a two-song CD of unreleased material.
The Quails, who are out of San Francisco, opened up and really impressed me, although I had never heard them before. They have an early Gang of Four sound with the driving bass (Seth Lorinczi, ex-Circus Lupus) prominently carrying their songs. Jen Smith's guitar didn't seem as biting as early Gang of Four, but with the bass being so loud, I could have misheard it. Drummer Julianna Bright did most of the lead vocals, but the other two sometimes sang lead as well. At the end of one of their songs they sneaked in a chorus of The Dicks' "No Fuckin' War." Their own lyrics were strongly political from what I could tell. I'm definitely interested in hearing more from them.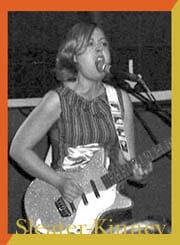 V For Vendetta followed, and I could sum them up by one of their songs titles which I believe is "Math Rock Is Not a Four Letter Word, It's Two Four Letter Words." They're a guitar and drums instrumental group who play the aforementioned musical style. I'm either a musician with rudimentary skills or I must have ADD because I'm easily bored by that genre.
Sleater-Kinney played lots of songs off their new album which continues successfully in their departure from their original sound. Just as Seth Lorinczi is the engine who drives The Quails I feel Sleater-Kinney drummer Janet Weiss performs that function for this bass-free band. Seeing them live with Janet's power and prowess was a thrill I couldn't have fully anticipated from listening to their recordings. Before the show, I noticed her wearing one of those wrist braces they give you at the orthopedic doctor for tendonitis; obviously the force with which she plays is taking its toll. I had read that guitarist/singer Carrie Brownstein's stage moves were reminiscent of early Elvis Costello and I agree completely. Of the two frontwomen, she was the more playful and engaging. Guitarist/singer Corin Tucker sang as beautifully and as powerfully as she does on their recordings. They played about an hour and twenty minutes, including a four-song encore featuring their cover of Bruce Springsteen's "The Promised Land." I don't think many in the audience knew the song, but I certainly did as I listened exclusively to that kind of music in my early teens before I got into punk. I thought their version was remarkable; hopefully they'll record it and release it at
some point.
Fortunately for me I've been working backward on my Sleater-Kinney catalog. In the last year I've begun to appreciate their third album, Dig Me Out. The title song was the last song they played at this show. For whatever reason I just couldn't hear this song in 1997, but now it sounds great every time.