To download this interview as an ebook, click one of the links below depending on your device. Questions? Comments? We can always be reached here.
Interview with Trust fanzine
by Helge Schreiber
The first issue of Trust fanzine was printed in July 1986, making the longest-running fanzine in Germany covering punk rock and its diverse styles. Trust fanzine is seen as a cornerstone of the German hardcore scene and almost everyone in Germany who appreciates good music has held or will hold a copy of Trust in his or her hands.
I have personally known Dolf of Trust fanzine for a very long time. I visited him for the first time in 1983 in his hometown, Augsburg. Trust fanzine and all the folks on the editorial staff and the photographers could be seen everywhere when there was something interesting happening. And if nothing was happening, the Trust folks started doing something on their own. I wrote some articles here and there for the early issues of Trust. It was around this period of time that almost everyone was active and doing something DIY related.
A damn fucking lot has happened in the twenty-seven years since the first Trust issue saw daylight. Today, there aren't many old people left doing Trust fanzine. That was the reason why I got in touch with Dolf and Jan and forced them to answer a bunch of my questions.
(A shorter version of this interview had been printed in the German fanzine Plastic Bomb issue #83, in February 2013. The full version will be published online on plastic-bomb.de in German. This is the translation of the full version (a little bit updated and changed here and there).
Helge: Could you give us a brief history of how you got together and started Trust zine? Who took part and what were your intentions and —what kind of content did you want to have published?
Dolf: In the 1980s we were very much impressed by American punk fanzines like Ripper, Flipside, and especially Maximum Rock'n'roll. Their sheer enthusiastic attitude was totally great. They wrote about punk, hardcore, and politics just because of the joy of it and without any professional journalistic education or influence by the ad buyers. It was all self-published.
So a few people, all from South Germany (Munich, Augsburg, and other territories), just founded Trust fanzine in 1986 out of real pleasure for subculture, music, and revolutionary consciousness. These people were: Michael "Мitch" Alber (who played in bands like Nuclear and Human Error, our art editor till 2009), Armin Hofmann (who played in the band Skeezicks, still runs X-Mist Records), Moses Arndt (from the band Challenger Crew), Tomasso Schultze (who played in the bands Everything Falls Apart, NoNoYesNo), Anne Ullrich (photographer, who published the punk photobook Got to Land Somewhere with comments by Spermbirds singer Lee Hollis) and myself. Some of the Trust founders were already zine makers. Before Trust, I was a manager for the HC punk band Inferno. Singer Howie still writes for us.
It was just the sheer lack of a medium that wrote about our music, so we had to create our own. We decided that Trust should be published bi-monthly in the format DIN A4 with a professional distribution and should aim at connecting with the national and international scene. And all should be a labor of love. This concept was really new in the German punk fanzine scene. Usually, zines were rarely available outside of the town the sole publisher lived in and, for instance, came out once a year.
We all felt totally pissed off by the early first wave of the so-called "Deutschpunk" scene. A lot of them were drug users, violent, and macho. Their bands took a commercial direction.
You have to understand that in the U.S.A., the hardcore explosion was already over in 1984, while in Europe it just started around that time with the transition of punk to hardcore. When Minor Threat broke up and tracked down "emotional hardcore" in Washington DC, Black Flag became jazz, and the Boston and New York bands went metal, the "core" was all new here. It was combined with the values of the British anarcho punk and so evolved the Euro-hardcore scene. This new movement—the explosion of American hardcore in Germany and Europe—was the core of Trust's origin. All contributors came from there. We aimed to connect and document this scene, to help protect it and prosper.
Armin came up with the name Trust. Today, this is mixed up because people forget or just didn't know the background. It has nothing to do with the 7 Seconds song or with the French band by the same name. Trust is an old expression for a monopolistic cartel and particularly this variation—"together" with a rather hippie interpretation—should be an ironic joke like, "Trust us. We dominate the market anyway."
Helge: What was the self-concept of the people who were doing the fanzine? What was important to you back then? Was there any type of direction you wanted to head towards?
Dolf: As already mentioned, American hardcore had landed with delay in Europe. You have to know that punk bands that toured Germany in the beginning of the 1980s, like Black Flag, D.O.A., Youth Brigade, and Dead Kennedys all came more or less through normal agencies at that time. There were no scene infrastructures yet.
That new scene was intensely discussed, which often took place in the readers' letters column of Trust fanzine. In the first years, we were the most important fanzine in Europe. It sounds arrogant, but this was not that difficult to achieve because we had no equal competitors.Trust was new and pioneering in the formative setting of the European punk scene. Some older punks argued that we would divide the scene. They dissed the new breed of HC people as "Stirnbandwixxer" (which means bandana jerks) and the new breed dissed the older punks as "Nietenkaiser" (which translates to spikes emperor). Many old punks felt accused by Trust because we would be so dogmatic and would only care about speaking with Ian MacKaye. Right, just as the punk scene did not have anything similar, like talking to Sid?
Altogether, we haven't always been right, for sure, at that time. We also made mistakes ourselves. We were around twenty years old when we started the zine and maybe you are more eager for confrontations at this age. But it was good and necessary to kick the asses of the older, saturated, and self-satisfied punk scenes in the Ruhrpott or Hamburg area. If today we have a look at these scenes again, one has to clearly say, that we haven't won yet because it hasn't gotten better at all. Only the payment for these bands is different compared to the past. These bands get much more words of encouragement and much more money can be made in such idiot scenes. We find bands that only have sexist or dumb lyrics really boring and not important to us.
There is only one rule for Trust: It is our zine. The content is suggested by our active contributors and is not dictated by the punk music industry. We are interested in good content and good music. And even if we were accused of being too serious, sour, and boring right away from issue #1, we still get a kick out of doing Trust.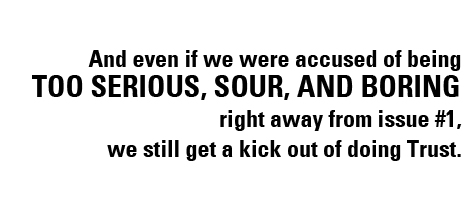 Helge: In the early years, did you ever think that Trust fanzine would last twenty-five years?
Dolf: In 2013, it has been going for twenty-seven years. Therefore, Trust is, along with Maximum Rock'n'Roll, the second-oldest punk fanzine in the whole world that is printed regularly and is published with a labor of love attitude. And that is good because we are still thinking, still caring in a constructive way.
What also satisfies me, too, is that we have no open debts. We owe nobody money (the other way round, unfortunately not). And this performance—combined with our straight bi-monthly publishing—to have regulated everything financially feels good. I would say that, all in all, this rarely happens in the punk scene. But I have to insist that I have no feelings of regret in regard to the good old days. To me, punk is not over and I am not done yet.
Jan: You criticize the things you actually love, I guess. I don't know any other scene or a field of activity that is more inspiring than punk. This international network of punk simply is unusual. You have this in no other youth culture or culture. Surely, metal is a worldwide thing as well, but in it you often find mere business relations or soon-to-be biz connections.
Moreover, one must step back from time to time and reflect how great punk is with all its own media, own radio programs, own concert venues, labels, bookers, and, of course, all the wonderful music which is—in the best case—not solely a soundtrack for boozing. For me, it is like "can't live without it," but this also means that I don't have the strong desire anymore to find the punk records stores or the punk bars during every vacation. Sure, this is fun, but I did that often and I have punk around me at home, which is cool. Just relax with doing usual tourist stuff and keep a low punk profile from time to time.
Helge: Some of the early issues of Trust came with 7" flexi discs. Where did you get those flexi discs? Were they supposed to be an inducement to buy more stuff from you guys?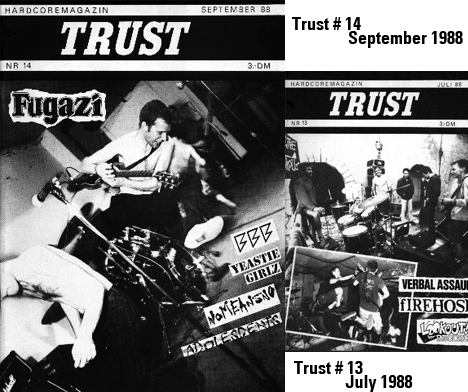 Dolf: Yes, in very early issues, flexis were enclosed. In general, we had very little so-called merch. There was the legendary "I HATE TRUST" T-shirt done by one of the co-founders. Then limited edition windbreakers with the zine logo on the front were made. And on the occasion of an Alternative Tentacles-Trust evening in Cologne 1994 with Neurosis and Zeni Geva, we had some T-shirts with "Trust No Alternative" printed on the back. Now, we have a cooperation with a German punk/skateboard company called Tante Guerilla and limited editions of T-shirts and hoods with slogans that were used on Trust covers.
Jan: Let's not forget the Trust CD compilation from the 1990s. Howie compiled a terrific sampler there, with some totally diverse, yet all good, bands just like the zine.
Helge: But we still can't expect to get any bonus CDs with future issues of Trust or have you made any other decision?
Dolf: No way. Attaching records to zines at the end of the 1980s wasn't as common as it is today. We don't say that CD supplements were and are always shit. But we realize that people—at least in the 1990s—mostly bought the zine because of the supplement. That changes the meaning and purpose of a fanzine because it is reduced to a "bigger" booklet then. We want people to buy Trust so that they have a real, honest alternative—free of interests or influences by the industry—in contrast to the usual music magazines and some fanzines. Also, one often notices that present-day zines that come with supplements read themselves like a catalog with a small editorial part. I mean, with a CD supplement you could absolutely almost triple your print run in the 1990s. I guess, today you must include a DVD or, even better, a six pack of beer to be different. We are fans, therefore we publish a fanzine. We're neither a label nor a mailorder.
Helge: There's quite a close relationship with the American Maximum Rock'n'Roll fanzine. How did this good relation evolve over the years? You're also exchanging ads on a mutual level, so these ads can be seen in both zines.
Dolf: We exchange ads also with an anti-fascist-newspaper in Berlin, with Razorcake, and some others. I first got to know Maximum Rock'n'roll through Dave Dictor of MDC in 1983 after I wrote him a letter. Later, I often spent time in the Bay Area and became acquainted with Tim Yohannan of Maximum Rock'n'Roll. I also worked for the zine, helped to build up 924 Gilman Street—among many others—and saw lots of bands there. Others would mention Operation Ivy, for sure, but I never found them that terrific.
Trust and Maximum Rock'n'Roll published in 1987 the "Welcome to Cruise Country" photo issue about European bands. This happened very much because of your energy investment, Helge! The title, "Welcome to Cruise Country," alluded to the NATO double-track decision. In Europe, NATO wanted to reinforce the deployment of cruise missiles while talking with the Soviets about disarmament. Maximum Rock'n'Roll did an online posting about this issue with a good quality scan and a long interview with me and Jan that can be found in their archive. So you can read more in detail there, if you want to.
Jan:Maximum Rock'n'Roll was one of the four important institutions worldwide for progressive punk in the 1980s, together with Flipside fanzine, Dischord Records and Alternative Tentacles Records. Trust clearly wanted to make close contact with them. The photo issue had such great snapshots of Negazione and Lärm and I always like looking at the old ads in there by Taang! or Mystic Records. It always felt good to contribute to Maximum Rock'n'Roll with two scene reports in 2004 and 2010. I also did interviews for Trust with the back-then active coordinators in the Maximum Rock'n'Roll house in San Francisco in 2004 and in 2008. What distinguishes Maximum Rock'n'roll from German zines is the straight, non-ironic, and serious spirit of the activists.
Helge: If you take a look at the interviews and articles inside Trust over the last years, it seems that the affinity towards the punk rock base has increased. Personally, I'm connecting this with the personality of Jan Roehlk. Does Jan know what kind of trouble he started?
Dolf: To me, this commentary sounds very strange, like if Trust only covered grunge rock in the 1990s and then that was changed by Jan in 2000? Trust was always a wild mixture of very different bands. We always understood punk to be a little broader. I don't say—and have never said—that every Trust issue was totally great or that I liked every band musically or ideologically. But it is simply not true that we forgot punk. You gotta see what we mean with hardcore punk bands like Verbal Assault, Siege, Negazione, DOA, et cetera. We don't mean neo-hardcore like Sick Of It All or neo-neo-neo-neo hardcore like Hatebreed or Terror. They only imitate Madball who imitate Agnostic Front who copy Cockney Rejects, who imitate pub rock.
Jan: Some New York Hardcore bands are simply just thugs, machos, patriots, or rich chauvinists who are not, were never, and never will be... cool. For example, I like Shellac very much. Musically, it is noise rock but ideologically they maintain a nice punk rock vibe. Those people are sometimes more interesting with regard to new ideas and sometimes play the better music. Punk is an attitude and sometimes this can be found in hip-hop, free jazz, death metal, and grindcore.
Look at the Hard-Ons. To me, they have "developed" too much with their grindcore-noise-rock-sounds these days, but I totally understand that they don't always want to repeat themselves. You get insane if you do that! You are somewhat strange if you still play the songs you wrote in your teenage years at the age of fifty. This is insane! A development must take place. Or, take a look at the Evens, who are really not my cup of tea. Should Ian MacKaye who is like fifty or so years old still sing, "Screaming at a Wall" or "I drink milk," today?
In regards to your comment to "bringing-back-punk-into-it" by me, I have already heard this a few times. This is always funny—and not true—because I am not a punk at all. I love punk but I also like completely different music. For example, The Doors or Cypress Hill.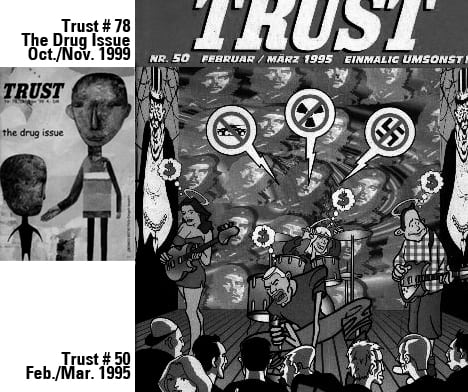 Dolf: It was always the case that some writers had a run for a limited time. They write a great deal, have a lot of ideas, launch projects like special issues, and get on my nerves all day long with their new ideas. [laughs] This surely was Thomasso in the 1980s, then Akö, Fritz, and Daniel in the 1990s and possibly also Jan in the 2000s, just to name a few. All this publishing only works out if you have a forum and other people who write for it, too. Nobody can fill seventy pages every two months and review three hundred records all alone.
Jan: Yeah, without Dolf's shitwork, no one would be able to read it. I really don't consider it my great ego show. I am so grateful for Dolf and all its authors!
Helge: Dolf, in the recent issues you only wrote your column and some book reviews. Why?
Dolf: In the beginning, I did everything: the column, interviews, music reviews. After many years, this got too boring and I had no more interest in doing interviews and writing record reviews. Why should I do something that isn't fun when it is all about the fun? Because I don't like to conduct interviews and writing record reviews anymore, it does not mean that others can't do this with a lot of joy. And that is the point: I was simply honest with myself. I just enjoy it now with the deeper reviewing of books and writing my column. And maybe that will also change sometime in the future (regarding the books).
Helge: You're not "just" doing a column for Trust. What else are you doing at Trust? Is there a separation between the advertising and the editorial?
Dolf: That is right. I do the whole shitwork more or less alone, which means the coordination, administration, ads acquisition, and writers support.
The separation of editorial stuff and advertisement is one hundred percent at Trust. All the potential advertising clients who tried to offer us package deals like, "We place an ad if you publish an interview." We don't do that and never did. I always tell them, "When we like your band, we cover them inside the zine no matter of an ad." And I also expect them to run an ad in the same "not content dependent" way! It can happen by pure coincidence that we publish an interview with a band we like in an issue in which the label of the band runs an ad.
Helge: Almost two years ago, Dolf, your book Got Me was released. It features all of your columns that had been printed in Trust. How did you come up with the idea of having them printed?
Dolf: The idea came up when I chopped all columns of the first issues into the computer years ago, because they weren't digitally available. If someone writes columns for over two decades—today one has to say "to blog"—you don't read the old texts anymore because you permanently publish new ones. When I typed the old data, it occurred to me that a lot of still-current things can be found in the columns and —if you read it chronologically it is a contemporary document. This sounds maybe shitty, but it is just that way.
I imagined it would be great if a publishing house also would recognize this and bring the book out as a whole. So the idea with the book of all my columns was born and a publishing house that took it up was found. Of course, we could have published the book by ourselves but I didn't want to.
By the way, another publishing house has brought out the book as an e-book in 2011. The regular version is just the book and there also is a version for Mac where you find a bonus interview with me by Ian MacKaye.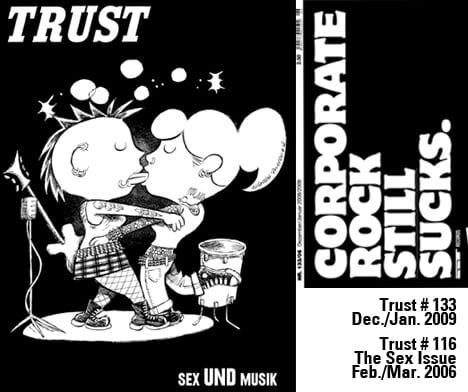 Jan: Dolf asked me to write a preface for the book. Ian MacKaye did the second preface. I felt very flattered because I like Dolf's columns very much. I like every word. It is my bible.
I saw Dolf's first public reading ever and yes, Dolf is Dolf. Also on stage. There are no heroic stories from old times. There are no sound examples and no ice cream advertisings. Here and there, the criticism is that he cannot write so well. That is always funny just like, "Yeah, but you can, right? That is why you write for a punk fanzine without getting paid or the lyrics for your fucking band? Give me a break! I guess you will get the Nobel Prize in literature next year!" If the technical skills would count in the first place, then we all have to listen to music of the New York Jazz Philharmonic orchestra. Even the best musician in punk, Joe Baiza on guitar, would be an amateur compared to real professional musicians.
There is a lot of criticism directed at Dolf and I would like to say something to this. I made zines of my own in the 1990s and wrote for a lot of other mags, newspapers, and zines in the 2000s—sometimes I still do today—so I have some experience in the area "writing for a punk fanzine." One thing is for sure: As a punk fanzine writer you can't have a better "boss" than Dolf. He is friendly, motivating, and grounded. He has his opinion on certain topics. One can constructively argue with him very well, learn a lot about fanzines and punk from him because he has been in it for such a long time and knows many people. Simply said, I like him because he has been around for such a long time and still is nice and drives such a straight line! Where are the fanzine loudspeaker guys from the 1980s or the 1990s today? Most of them had only a big mouth, are ashamed of their punk past, or have gone extremely crazy and megalomaniac and conceal their ego show, as always, with far-too-big words.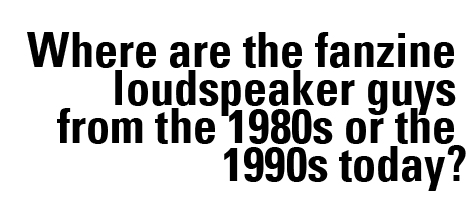 Dolf is funny, a good beer drinker, and an interesting multi-dimensional person. In the beginning of my Trust activity, I was highly irritated that some people said that Dolf is an asshole, an alcoholic, a poser and so on. After two or three years I understood that all people who are responsible for a known, long-lasting thing are a perfect target for jealousy (also in the punk scene). These people are just envious. I mean they are fucked because every second month since 1986 Dolf publishes issue after issue and it seems that some people just have to find something that is wrong. A good example is when Trust hadits twenty-five year anniversary two years ago. Some people gave Dolf shit because "Trust did not make it," which was meant as Trust did not become a biz that can support Dolf well. What a criticism for an underground punk fanzine!
Helge: Dolf, you also did a reading tour accompanied with the release of your book. How many readings have you done so far and how was that? How did the audience react?
Dolf: So far, there were almost two dozen readings over the whole republic, as well asone in Austria. This was always super for me. I do the readings primarily for fun to travel and become acquainted with new people or to meet old friends again and to communicate with people. Secondary is also to make a few bucks. You can buy the book, too. It was always an interesting experience. I had the feeling that "I am good" from the start (I don't know if I am "good," I just mean it how I perceive it myself). I learned from lecture to lecture. That was always my learning curve method, just learning by doing.
I am always a little nervous, too, but I can cope with that. If the reading is visited well, it is fifty people. The worst I had was with three in the audience but, fortunately, this happened only once. I enjoyed travelling and hanging around with the promoters. Big thanks to all of them, and I am looking forward to new invitations.
Helge: Jan, my dear old mate, throughout the past years you've been responsible for a lot of excellent interviews and specials on different topics. How did you come up with the idea of doing a special issue on the theme Rich Kids On LSD (RKL) and how did you get so much feedback from the people who were involved?
Jan: Thank you Helge, that is very nice of you. I generally like theme issues and also issues with a longer special feature. I saw specials in other zines again and again and then decided that I could do it at least on the same quality level. I simply enjoy this work on features, the process of arranging a special, sorting out ideas, and the interviews with different people and compiling it.
The first Trust special issue I co-coordinated was printed in 2006 in issue #116 about sex called "The sexiest thing is Trust."I proposed Dolf a theme issue on that topic and he said that another Trust writer in Frankfurt had the same idea earlier, so Andrea and I became the coordinators of that issue.
Later on, we did a memorial special about RKL, which we had to split up into two pieces in our issue in later 2007 and early 2008. The RKL-special has a pre-story.
I was in California in 2004. RKL played in their hometown Santa Barbara and I was blown away. Unfortunately, I missed them twice in Germany. The concert was the most insane thing I've ever witnessed, besides that it was an aggressive technically highly complex whirlwind which can't be compared to any other band. Before the show, I did an interview with vocalist Jason Sears for Trust #104.
Sadly, as we all know, three of the band members died in 2005 and 2006. So doing the RKL special meant that I wanted to memorialize them and the whole band with one or two interviews, as, in my opinion, RKL had been a pioneering and epic milestone band promoting skatepunk.
I never expected that this RKL special would turn into a monster of about fifty pages as a two-part special, with so many people contributing their memories on RKL, like Fat Mike, the mother of Bomer, you, Helge, Archie (the European tour manager of RKL), also people who released RKL records like Alchemy or Mystic Records. And nearly all living band members contributed something, too. It was just unbelievable.
We also set up a release party/memorial concert in Frankfurt, Germany with two bands that were influenced by RKL. These two bands were Scheisse Minelli from Germany and Bratpack from Holland. They also played some RKL cover tunes.
Razorcake reprinted that special, and, to top it all, some parts of that reprint were included in the booklet for the re-release of the RKL Live in West-Berlin 1988 CD on the Berlin-based Destiny Records.

Helge: Also the SST Records special was really outstanding. The music on SST Records seems to be the connecting point between all the different people who are writing for Trust. I think no other record label connects so many people, maybe except for Dischord.
Jan: I don't think that SST is "the Trust label," because this would definitely be Dischord records. I mean there are some SST bands like Black Flag, Hüsker Dü, Bl'ast, Sonic Youth, Dinosaur Jr., Descendents, Stains, Leaving Trains, or Saint Vitus, which everybody likes, and that goes for sure also for some Trust writers. But these bands are only the well-known ones, the top of the iceberg of the SST output.
For many years I admired SST because they had this completely non-conformist release politics from the beginning. They did not care what a punk label should or shouldn't sound like. They stoically did their own thing and provoked and confused the right guys, the eternally yesterday's people.
Just look at SST #001 from 1978 and the follow-up release. You start with the fucking best punk-rock 7" worldwide, where everybody expects more of the same and then you just cooly drop the real shit with this Minutemen funk-punk-bastard from San Pedro. Even thirty-five years later it is still so fucking laid-back-easy-going-fuck-you-style because the Minutemen were just like a lot of SST outfits—rooted in the punk DIY attitude but transformed punk into something completely new.
In 2008, some fanzines made specials on behalf of the twenty-year anniversary of Sub Pop Records. While I think that Sub Pop released some real great records from Mudhoney, Jack Pepsi by the mighty Tad, and others, including Nirvana, it occurred to me that SST also had an anniversary the very same year. Thirty years in 2008. Nobody noticed that, apart from us, besides a small tiny article in the English Guardian newspaper.
I have always loved but never understood SST. The label was, for me, just like this black monolith in the movie 2001. Suddenly it is there. It is perfect but how the fuck did this one get there? How was it made?
I spoke with other Trust writers, who are SST fans, and started mailing around. Exactly as in the case of RKL, I thought perhaps two interviews would take place and, again, everything returned in a snowball effect. Joe Carducci worked for SST in the high phase from 1981 to 1986. He immediately agreed to contribute something. I found other willing contributors and then the ball got rolling. In the end, we had Mike Watt, Mike from Bl`ast, and some other SST workers and musicians for our special, which came with a great layout. Unfortunately, our plan didn't work out to have Raymond Pettibon draw a cover for us. It also didn't happen with RKL and Dan Sites.
SST had this very strict DIY roots punk attitude and combined this with many older music styles like blues (Dicks), jazz (Universal Congress Of, Saccharine Trust), and country (Meat Puppets). There was this legendary year, 1987, where they released almost one hundred records within one year. SST had a historically unique run and delivered the highest quality—just think of the Cruz Records outputs like Chemical People, or the solo record of Violent Femmes' Brian Ritchie, Cruel Frederick, and on and on.
At some point, the sheer variety turned into ambiguity. Brilliance and insanity are close neighbors. I wanted to remember SST with the special and try to understand its history a bit more through speaking with the ones who were there. It became clear that all the accusations directed at SST can never be fully cleared.
Helge: You got quite a lot—and mostly good—feedback for this special on SST Records, which resulted in a series of SST-DJ nights in various cities. How did you come up with these SST concept nights and who was involved? I just hope that you didn't play the SST music off a laptop!
Jan: When issue #133 with the SST special was published in December 2008, we had a release party in a bar in Bremen and played SST music on vinyl and CD. That was so great to listen these records again, all the vast output.
In 2010, I was in Cologne at a concert. Afterwards, in front of a bar, somebody spoke to me and praised the SST special. It was a guy called Schippy, also a big SST fan. We later mailed because of rare Hüsker Dü material on a blog, which wasn't so rare then. In these music-exchanging emails, I suggested a SST DJ evening in Cologne.
So Stone, Schippy, and Gordon—Hazelwood Vinyl Plastics, also part of the special— released some newer records of Mike Watt and Saccharine Trust—deejayed in a real nice bar. You could smoke inside, drink cold beer, enjoy great music, and talk to nice people. Perfect! Additionally we showed old SST videos.
Cologne was a genuine SST city during the 1980s because of the praise the label received from the German-indie magazine Spex. Some old staff members of the mag also came around.
Stone, myself, and Schippy got on extremely well and we wanted to repeat this, so we did this DJ nights with only SST and sub-labels music in different cities in Germany and Austria. And we always had local guest DJs who were also SST fans—in Berlin with Jacho from Destiny Booking, a huge The Last fan. For me, another SST layer completely unknown to me opened: Slovenly, Tar Babies, Zoogz Rift, and Henry Kaiser. We did SST DJ nights in twelve different cities and I was more like a "tour manager." All in all, my intention with the special and shit was to understand the label better. Today, I am not more clever frankly. Greg always said that he is only interested in the present and doesn't like this retro thing. Then again, isn't it the old stuff—the back catalog and Black Flag skateboards—that he earns his income from?
But, nevertheless, SST is kind of disenchanted for me and one must concentrate on current labels. We made a release party in Bremen with the special issue #149, about "Thirty years Dischord Records." This is this new label from WashingtonDC, I don't know if you know them, Helge? They seem to make this music which they call "hardcore"?!
Helge: Your layout features art, appears extravagant, but also gets criticized because of its style. Do you care about such feedback, because you're doing whatever you want, or do you view your own layout style as a volitional counterpoint to the conventional layouts?
Jan: You have to understand that Mitch did the layout only in MS Word! He is the boss of a print company but was not interested in learning new layout programs and wanted to keep it minimal and clear. Back then, people said that Trust looked like a student's paper. Since Andre uses the newest layout software and maintains a totally unique style of his own, now the same people say it looks a like this big, slick indie magazine everyone hates. But if I dare to say something bad about the layout of their fucking band record, they say, "This is brilliant record cover art because the sister of my girlfriend did it and she studies art."
We let the pictures breathe and the texts evolve. We just don't fill-up every white area with text. Andre works more with different letter layouts and rarely uses photos. I don't like everything he does. But I like most. There is this old punk parable: "Don't judge a book by its cover." It does not mean that the layout is not important for us—it should look great and aesthetics are important—but so is the content. At the end of the day, great layouts and great content, that is what we call perfect.
Helge: And who is responsible for the cover artwork?
Jan: Andre always thinks up a little reference to one of the interviews inside. He alone chooses the cover.
Helge: About two years ago, a Trust book, which is a reprint of the first ten issues of Trust, got released. What made you decide to reprint these issues and how high was the print run?
Jan: It was funny how this came about. In 2007 Dropdead played a short European tour with only one German appearance in Hamburg. Some friends drove there and we visited a friend staying with a friend in Hamburg. In the kitchen was this old bookshelf filled with lots of old German punk fanzines. As a joke, the host suggested that he would have it more comfortable if all old Trust issues were collected in a book. At that moment it clicked. We then printed one hundred copies of the first ten issues #1 to #10 (1986 to 1988) in a book with all old ads and shit in a volume of nearly seven hundred pages with a nice cover. No extra bonus comments because it is not over. We could get rid of all through pre-order. The profit went into the zine. We are doing it now again with the second book of the issues #11 to #20 (1988 to 1989).
Helge: Now one more general question that has been asked quite often lately. Why are you doing printed issues of the Trust zine to this day instead of doing an online mag?
Jan: The internet is good for short news info but not for more extensive contributions. And you can totally forget the discussion culture in online punk communities. Skinny males write there, calling themselves "XveganwarrirorX," talking complete shit and attacking other users out of their anonymity. When you meet these people in person, they are quite nice. And when you return home and switch on the PC, you read posts from the same person you met some few hours ago about what an idiot you are. Forget it. This surely is a waste of time. Two years ago, we had our twenty-five year anniversary in Bremen with the bands Sex Jams, Leatherface, and NoMeansNo. We are still around. The financial figures are good. We owe nobody money. Everything runs so well. Why should we stop and do an online zine? And I really don't know any online board that is better than an okay print zine.
Helge: During the past months, there has been criticism directed toward your zine that some of the interviews or articles are outdated, sometimes over a year old. What do you say about this?
Dolf: This wasn't and isn't the rule; however, it can happen for different reasons. But it is not so bad, 'cause we don't conduct an interview for the sole purpose of the current cause. If the interview is done, it will be published in the upcoming issue or in the following one. It does not matter at the end of day. With regard to the "outdated" interviews, I also think that the critics don't know how the normal zine production schedule looks. A conversation only based on the occasion of the new record and/or tour was never our thing. I mean, we don't reprint the internet either.
Helge: How high is the print run of each Trust issue? Could you also say what had been the highest print run? Have there been any real bad times concerning the number of printed copies?
Jan: Definitely less than the print run of your Plastic Bomb zine. A few years ago, Trust stood financially not so good. I had inherited quite a bit of money and donated 2,500 Euros to the zine. That is—approximately—the cost for the production, printing, and mailing of subscriptions for one full new Trust issue. Hey, fuck it; I wanted to see Trust continue and, yes, later on I had a decadent vacation in other people's misery with the majority of the money.
Then, Dolf clearly stated in his column what happened and that he and myself made a short, written contract. That contract says that my donation does not mean advantages for me when it comes down to deciding what interviews make it inside and that, on the other side, it also does not mean any discrimination against my input. Sounds maybe a little conservative to do it that way, but I know you punks and, of course, somebody later told me in Berlin—where I lived at that time—that I had bought myself in at a very low price there. Yeah, right...
Helge: Jan, one more question. Why do you always ask the question "AC/DC or KISS?" at the end of your interviews?
Jan: It was the intention that, at the end of a very long talk about life, Jean-Paul Sartre, SST, Dischord, and all these deep, emotional things, I simply come up with the most stupid topic to fade out, to offer the choice between two bands which surely not many people in the hardcore punk scene like. My youth conflict was to be on the AC/DC or the KISS side.
With AC/DC and me it is quite funny. At the age of eleven, I got braces, the king where you have to clean it with tablets twice a day after your lunch at school. I already had to wear glasses! When the diagnosis of the doctor came, I was very sad. My mother went with me to the record store opposite the doctor's practice and I could buy any record I liked. I took the one where I knew songs via my older sister, and that was High Voltage. Since then, I was totally hooked. I also like the songs with "the new one." I hope that Phil Rudd never stops chain-smoking when playing the drums live. For me, AC/DC is an example of a band that just does its own thing and totally ignores the rest, like "Fuck you all. We never change"—which probably is totally wrong and they listen at home only to jazz all day, but, you know...
A beautiful answer to that regular question at the end of my interviews came from John Stabb of Government Issue. He recently said something like, "If you listen closely to the Minor Threat song "Out of step" on 33 1/3 rpm, you hear how strongly Brian Baker was influenced by Angus Young!" But I have to admit that the KISS show some years ago was the best concert of my life—and I say this although I was the driver and we had only the cheap seats in the back of the venue. It was just a very great Las Vegas show by professional entertainers.
Helge: Black Flag or Cro-Mags?
Jan: The Cro-Mags are a good example for so many HC bands that are musically the real deal shit, just like SSD. The music is so fucking brutal, at least the early material. Lyrics-wise, it is, in good times, just banal and in bad times, just flat dumb. It is often the case that a HC band has an impressive aesthetic outlook. Take Poison Idea; their best outputs are so mean, powerful, aggressive, and nasty. I must always think of the movie Alien. These aliens are unbelievably fast and powerful. However, if you open their heads, it is only filled with air.
Or take the first record of Jerry's Kids. If one hears this, it is impossible to find Mozart extremely good. Thirty years later, Is This My World? still remains simply unbelievable. But the same goes for the infantile lyrics, too. If the musical form matches the contents on the highest level, something like that would be a real classic. This doesn't always have to be a left political lyric. It also can simply mean the authentic expression of an enthusiastic or dark emotional feeling. Like the B-side of the My War record as the most prominent example: As Rollins suffers there through "Nothing Left Inside," one really wants to fly over to Lawndale and bring him a sandwich with good German butter while stroking his head. "Everything will become well, everything is okay. I know, the horror, the horror of getting in the van, but it won't last!"
Helge: Any additional comments?
Jan: Punk was often said to be dead. This is not true. Punk is clearly alive. Nevertheless, when I look at punk today as a whole I have mixed feelings. In some cases, punk is indeed an empty and hollow shell. And if you just look at the music, it is just plain logic that you can only play so many different music styles with three chords in thirty years. Punk rock is, music-wise, totally done. Everything was tried. You can't play "new" music as a punk band anymore.
But there are still lots of great new bands and they make the difference lyrics-wise. Then again, sadly, most bands only try to be innovative when it comes down to special limited editions packaging or different covers or vinyl colors. And very often you see these days in younger bands playing for like four years, doing two LPs and two big summer tours in Europe and then realize, "Hey, the Wipers are better than Fang." You hear that prefabrication of the sound—and of course they never reach the greatness of their favorite influences—and what do we have then? A talented band because they play exactly like XYZ? Or a cover band? Where are their own ideas? While I still think it is totally right to say that "HC-punk should be more than music," I sometimes think that HC-punk actually isn't good music anymore.
Thank you, Helge, for the interview. Congratulations on the twenty-year Plastic Bomb anniversary this year!