Another Fest has come and gone. My feelings are reminiscent of the beginning of a new year, when it takes me until February to finally start writing the date properly. I catch myself looking forward to the awesomeness that has already happened, and wondering if I really made the best of it. The extensive bruising to my left leg and the black spots in my memory say "probably," and the fact that I drug it out for a full five days says "absolutely."
Things got underway a day early this year. Not here in Gainesville, but two hours south at the Skatepark of Tampa. I rode down with Razorcakers and early-comers Toby Tober, Todd Taylor, and Daryl Gussin. It was a sunny day with a slight nip in the air, and we arrived early in the evening to a crowd already beginning to blow in from their respective corners of the world. The parking lot was full of familiar faces: California and Tampa family with the rest of the usual suspects thrown in for good measure, all clutching blue Pepsi cups full of whatever cheap beer they'd scavenged that round.
The show was a blast. People continued to trickle in from the airport as dusk gave way to night. The band roster was world-class awesome, featuring Fleshies, Toys That Kill, Tiltwheel, Dukes of Hillsborough, and a whole lot more. Every single person onstage was a rock star that night, because they were performing for a room of their biggest, drunkest fans. I wish I could say that we all paced ourselves, secure in the knowledge that the show taking place was merely a drop in the bucket in comparison to what we faced during the oncoming weekend, but that was not the case. We all drank and rocked out like we were already at the Fest, but I like to think that it was just a dress rehearsal.
The real kick-off took place the following afternoon. My roommate, Lindsay Beaumont, and I headed downtown around five to scope things out. She met with the other photographers at Common Grounds and I headed to Xtabi with Jessie Brune. Xtabi is a rooftop bar in between Common Grounds and The Side Bar that sells fifty cent Natural Light drafts, so it became a no-brainer as a rendezvous point over the weekend. We ran into San Diegan Josh Mosh on the way and recruited him. Thirty or forty familiar faces were already up there, drinking cheap beers and waiting for their first band of priority to start.
At eight-thirty, it was time for us to leave for 1982, where local dudes The Cold Ones were about to begin. The walk took a bit longer than anticipated and we walked in just as they were wrapping up their twenty minute set with their signature ballad which I think is titled "I Want You to Die." At least those are the words that vocalists Mike Collins and Troy Pearlman weave harmonies with for a good portion of the song. Tampa's Vagina Sore Jr. played next. I know them mostly as Russ from the Tim Version's other band that rocks a lot, too. We stayed and bobbed our heads to the first few songs, before Jessie and I headed back to Xtabi.
There were a lot of the same people still hanging out and a few new ones had arrived. Davey Tiltwheel and his wife Annie Metal were there, then my boyfriend, Tony Depaolo, showed up, followed by a couple of our Minneapolis men. So I drank a lot of Natural Lights, which oh-so-surprisingly went down like water. Speaking of water, the sky that had been threatening rain all day finally decided to make good and emit a steady shower, immediately changing everybody's leisurely strides into uncomfortable half-run half-shuffles.
And it wasn't until we half-ran, half-shuffled to Common Grounds to see The Lawrence Arms that I realized how much damage a little watery beer could do. When we entered the building, some band was rocking it onstage. I got all pissed because I thought that it was time for The Lawrence Arms. It wasn't until bassist Brendan Kelly said who they were and goodnight that I realized we had been watching them the whole time.
At that point, we could have gone to see a few awesome bands that were about to start. Minus The Bear was playing over at Abbey Road, Escape Grace was playing a Quicksand cover set at The Atlantic, and The Arrivals were going on at The Sidebar.
Considering my utter lack of attention span and awareness, we settled on the latter. Most of the visiting family was assembled at The Side Bar, and it was really beginning to come down outside. We made it in just before the heavens unleashed their fury and soaked every one and thing, probably washing away cars and untethered patio furniture. I had really looked forward to seeing the Arrivals for the first time, and from what I can remember, they were awesome. The most distinctive qualities that I can recall from their set is that the drummer was a fucking master and they seemed to discharge the perfect brand of anthemy folk-punk for my drunken ass to sway to.
When the show ended, the monsoon-caliber rains continued and showed no signs of relenting. Nature had killed my desire to after party and dampened the spirits of many a Fester. Tony and I recruited Davey, Annie, and Ben Snakepit and whisked them back to my house where we drank more beer and ate Five Star pizza until our bodies reminded us that they'd said "enough," long before.
Saturday morning began with mimosas and breakfast at the house, before Davey, Annie, and Ben went to an early house show. It was supposed to start around eleven, but things ran late as usual and Tony and I split from the group and went to Common Grounds. Upon arrival, Razorcaker Gabe Rock handed me something with at least vodka and pineapple juice in it, before disappearing toward the party on foot.
I decided to stay at Common Grounds for the rock showcase and barbecue that was getting underway. I moved on to a bloody mary and a seat at the Porch bar as locals Frozen Cobra kicked off the day. Midway through Blacksnake, a Gainesville Southern rock outfit with Danzig-esque vocals, I felt ready to venture inside and let the music overcome me.
The Hold played next. They're another Gainesville band with a bit of the Southern rock influence, but with hints of Judas Priest and all of the bands that we grew up idolizing. Put simply, they're like the new shirt that fits so comfortably and goes with everything you already have so well that it's easy to forget its newness. Their set was the first of two for Tony to play that day.
After killing a couple of hours with barbecue and coffee, Tony and I went to Club Red where his band, Luca Brasi, would play. As we arrived, Battle, a spirited local hardcore band took the stage…and the floor, and the whole room. The small but fervent audience went ape shit. Their set was chaos incarnate. I liked it.
Luca Brasi engulfed the room next with melodic, heart-in-the-throat rock. During their second song, something happened, however, that would change the course of Fest 5 for me. Tony stepped wrong and rolled his ankle. He played the rest of the set like a champ and it wasn't until it was over and he gingerly descended to the floor below that I understood the magnitude of the sprain. It was to be a weekend of limping and carefully planned club-to-club movement from there on out.
A bit after seven, we made our way back to Common Grounds. I left Tony on the Porch with an ice pack, while I went in to watch The Ergs! They are steadily growing to be one of my favorite bands and I love that they have a drummer who sings. They played a couple from Jersey's Best Prancers and a few that I didn't recognize, but loved just the same. That was the first point during Fest 5 where I felt that combination of connection and excitement that people hope for every time they go to a show.
I watched a bit of Richmond's Pink Razors next. They were pretty awesome, and everything I hoped they'd be live ever since Toby Tober got me hooked on their EP Scene Suicide over the summer.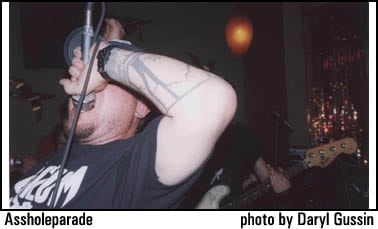 A bit before ten, Tony and I made the four block hobble to Abbey Road, which in his state seemed like a death march. Fleshies played first. I had seen them two days earlier at the skate park and I have to say that I liked them a lot better at the smaller venue. They played wonderfully at Abbey Road and had a huge and attentive crowd (which was imperative considering the unprecedented number of times that the singer stage dove), but the lack of intimacy was clear. Either way, I made my way to the front and danced my ass off with Annie Metal and a host of other drunken scoundrels.
Gainesville legends Radon hit the stage when Fleshies finished. There is a reason why they have such a diverse and enthusiastic fan base. Want to know the secret? They are fucking awesome. There is no way around it. They're everything that they need to be to make everyone feel okay about loving them. They're a rock'n'roll band with just enough hooky-poppiness to maintain an audience's attention, while incorporating everything that is humorous and good about punk rock into their lyrics.
I knew nothing about the next band that took the stage, except that they were called The Bomb, they were from Chicago, and were supposed to be some big-shit deal. Guess what? They were quite impressive. They seemed a little reminiscent of Bad Religion in a way that I can't really put my finger on. I think I just felt as though I was in good hands listening and watching them, like, "Don't worry. The professionals have got this one."
After The Bomb ended, Tony and I decided to move to the ramp behind the stage to get the best view for Dillinger Four. Turns out, everyone else that we know had the same idea and brought their grandmothers with them. The view was fantastic and the set incorporated everything that one would expect from a D4 performance. Paddy got naked early on, Lane threw his drumsticks all over the place, shit got broken, shirts came off, and we all sang along like we were on a bus bound for camp. Toward the end of the set, we left the stage area and moved to the back of the room where Tony's ankle would be kicked a bit less. From there, we screamed along with the finale of "Let Them Eat Thomas Paine," before calling it another early night.
After a lazy morning and afternoon, Tony and I made it to The Side Bar a little past six on Sunday evening. Vena Cava was our first priority of the day. This female-fronted, guitar-prominent San Diego three piece gets better and better every time I see them.
Tampa's Dukes of Hillsborough followed. As always, this threesome brought their brand of no-bullshit, straight-up rock to the room. They're one of those bands that makes a person want to throw their fist in the air and scream the word "yes!" over and over again.
Completing the trio of trios, San Diego's Dan Padilla was up next. Being early, everyone was relatively sober, so their set of throaty, catchy rock songs was well- executed. Tampa resident and band inspiration Dan Padilla (the man) was present, giving everything that special hot cocoa after ice skating feeling.
We had to cut out a bit before Dan Padilla ended to catch the beginning of Chuck Ragan's set at Common Grounds. A former Gainesvillian and member of Hot Water Music, his return to Common Grounds felt very sentimental. He played warm, gritty, honest acoustic songs. More like Rumbleseat than Hot Water Music, but distinctly Chuck.
We left after a few songs, because there was no way that I could miss Bloodbath and Beyond back at The Sidebar. We arrived to laughter and chaos (which is expected from a band with song titles like "Adderal You Can Eat," and "Eat a Bowl of Fucks,") and saw that there was a new band member onstage. Our friend Floyd from San Francisco was standing in for an absent Paddy Costello. Upon closer inspection, I understood and joined in the laughter, when I realized that Floyd was unplugged, playing "air bass." Midway through the set, someone permanent markered the words, "How Much?" on Floyd's chest as a tribute to Paddy's infamous "How Much Art Can You Take?" tattoo.
Sex Picnic happened next. They have been much-hyped around town, heralded as the girl version of The White Dove Frisbee Team. I was very disappointed in what I heard from the back of the bar. I should have known to be weary of any act touted as the "girl version" of anything.
The local testosterone fest known as Billy Reese Peters saved the day with more ass-stomping rock'n'roll. This is about the time when an already drunk me drank a rocks glass full of well whiskey. I distinctly remember thinking that it probably wasn't a good idea, but my birthday was only a couple of hours away, and I was feeling pretty invincible. That's about the last thing that I remember from Sunday night. The most upsetting part is that I had been looking forward to Tiltwheel's Fest set all weekend.
Apparently my body didn't miss it, however. Reports have confirmed that I was not only there, but onstage, singing along and yelling out songs for them to play and a barrage of other nonsense. Hmm. Tony reappeared, having left momentarily to watch part of Lifetime at Abbey Road. Word is, he handed me one of the cans of Milwaukee's Best Light that I asked him to smuggle in, opened it, and immediately threw it into the crowd. It wasn't a bottle and no one has come forward with any missing teeth yet, so that's positive. Nobody ever feels great about having the lights turned out upstairs in the middle of a crowded room, but things could have gone a lot worse, I think.
So that was the end of the actual Fest for me. A huge after party happened at The Ark where fun bands like Radon played, but my saint of a boyfriend drove me home instead and made sure that I didn't die.
My birthday and Halloween were a bit painful and cloudy, but a few friends remained in town and continued to party, making the post-Fest withdrawals a bit easier to stomach.
It's funny how every year we think that the Fest is going to be easy this time around; that we're pros and come Monday we'll feel like a million bucks. Maybe that's why we so readily throw our bodies and spirits into the fire time and time again. Or perhaps we all know that it's just worth it.
In retrospect, I would rather be blacked out onstage at a Tiltwheel show in Gainesville with all of my friends than be lucid anywhere else.