Last year, my good friend shelled out a bunch of money and went to Fest in Florida which is on the complete opposite corner of the U.S. For weeks afterwards, Fest was all she could think or talk about. After D4th of July, I completely understand. This event was the first time I've dropped a bunch of money on a flight to see bands and it was worth every saved cent. Once I saw the lineup, I couldn't say no. This event clocked in at fifteen bands (one of which was the mighty Lifter Puller, revealed that day), and three stand-up comics.
My red-eye flight landed in Minneapolis at five AM on Friday, July third. After a couple hours sleep, and hitting up some local pinball joints (Mortimer's is rad!), I moseyed into the Triple Rock around six where I met the world's nicest bartender. He made me a short list of things to see in town and gave me a coupon to a local record store as I rambled on about how excited I was to be at that venue for such a big show. Working my way through a plate of fantastic vegan nachos, I glanced over to the person next to me at the bar who happened to be flipping through my "One Punk's Guide to Pinball" in Razorcake#85. I instantly felt right at home, even though I came out alone and didn't know a soul there.
Throughout the weekend I drew parallels between the show goers I saw and my friends back in Seattle. "That grinning gal with blue pigtails is Minneapolis's Kourtney. The crusty kid with the mohawk is their version of Tony Trash. The friendly sober guy with platinum blonde hair is Lonny Bristle if he grew up in the Midwest," I thought as I went through the fest completely invisible to those around me. It's both terrifying and liberating to be somewhere outside your comfort zone and totally alone. While I envied those who met each other with bear hugs and smiles, I relaxed at the same time, knowing I had nothing to lose by putting myself out there. It didn't take long to find that making friends is easy with enough beers and punk rock singalongs. Sure enough, there we were arm in arm (up in arms) again.
Pre-show: France Camp, No Skin, Arms Aloft, Zero
I walked into the show room at the slated start time to find nothing happening, so I opted to get some food after about ten minutes of waiting around. Instead of catching France Camp, I made new friends at the bar over a couple of beers. Earlier in the night I talked to Tyler of No Skin who let me in on the secret that their singer, Ben Crew, was M.I.A. for this show. While Ben had booked this gig for his band, he decided to see a Weird Al Yankovic show in lieu of playing one. The rest of the band picked up the vocal slack and roasted Ben the entire night. Among other insults, they burned a picture of him on stage and insinuated that he is untrustworthy around children. Even sans singer, No Skin put on a solid set with insulting entertainment peppered throughout.
It had been far too long since I'd seen Arms Aloft and I loved every second of it. A few years ago, I booked them at The Morgue in Seattle and it proved to be one of the best attended shows I'd ever done there. Sawdust City is the record I'm most familiar with and they cruised through jam after jam from that. There was a diehard fan up front with me who belted out each song with so much passion for them. Arms Aloft are very much a blue collar punk band, heavily influenced by stuff like Hot Water Music and Jawbreaker, which is right up my alley. They put their full selves into the entire set and the crowd responded appropriately.
By the time Zero came on I was hoarse, buzzed, and waning in energy. Luckily, they were not. Equipped with super shreddy guitar riffs and strong, raspy vocals, these guys tore through their set in a way that helped reinvigorate me for the night. They're a hardcore punk band with metal leads and street punk tendencies, and certainly looked the part, clad in '77 spikes, charged hair, and bullet belts. It was a good way to wrap up the night and I cabbed back to my buddy's house, bursting with excitement for the next day.
D4th of July: United Teachers Of Music, Nato Coles And The Blue Diamond Band, Pink Mink, Tim Barry, Off With Their Heads, Toys That Kill, Scared Of Chaka, Lifter Puller, Dillinger Four, Against Me!
Dear readers, I've failed you again and missed most of the opening band! After catching up on my jet-lagged sleep deprivation, my buddy Matt and I quelled our hangovers with breakfast burritos and iced coffee from The Bad Waitress. Since I have limited experience with summers in the Midwest, I was completely unprepared for how goddamned hot it was. Some eighty-six degrees with over sixty percent humidity was melting my face more than the gnarliest metal band ever could. Though I stuck steadfastly to my one-to-one water and beer ratio to deter dehydration, I was still overdressed and totally uncomfortable all day. The main fest was outdoors and the only relief was found in the A/C-equipped show room at the Triple Rock, so that is where I spent every moment between bands.
I only caught the last song and a half of United Teachers Of Music. The singer wore studded gauntlets and wielded a sword. While kinda kicking myself for not seeing more, I was still trying to take in the size of the outdoor stage. It was much, much bigger than what I was expecting and sort of gave off a Warped Tour vibe. Fortunately, that impression was secluded to the stage itself. After their set, I looked around the crowd of people hugging each other with smiles and warm greetings and it set in that I was totally alone and invisible. Fortunately, the next thing I did was meet fellow Razorcake contributor Marty Ploy! Cool, now I knew at least a single soul here.

Nato Coles And The Blue Diamond Band was next. More and more people started trickling in as their set went on. After seeing this band, I truly believe Nato Coles is a man who was born to rock'n'roll. He had the best stage antics of the entire day wherein he'd climb up the risers of the stage, do spins and some really smooth rock jumps. The band was pretty straight forward punk'n'roll in the best way. Early in the set they covered Thin Lizzy, which really helped kick things off. They clearly were having the best time on that massive stage and really started getting the crowd warmed up for this magical day of music.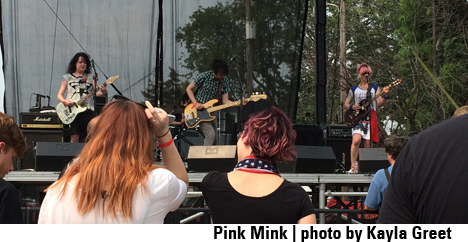 On next was Pink Mink who were the last of local bands I didn't know anything about. Their guitarist donned an old school Scared Of Chaka tee and mentioned how stoked she was to see them. This band was so fantastic! They have strong vocal harmonies and play a style of punk that is steeped in power pop. For their last song they opened up the set for the crowd to choose what to play, which exemplified a real sense of local loyalty to this group.
Still attempting to deal with the sweltering weather, I popped into the showroom again during the quick change over on stage. There I made friends with a sweet couple who invited me to hang out with them during Tim Barry, who I'd never seen live. I admitted to my new friends that while I adore Avail, I felt like I needed to be in a certain mindset to enjoy Tim Barry solo. What blew me away was how quickly Tim's lyrics and attitude took me right there. He has got to be the most down-to-earth, genuine, and sincere artist I've ever seen. When he stood up on that six foot tall stage and told the crowd how he wrote the next song while sitting on the side of the road one night in his big rig and never expected anyone else to hear it, well that just warmed my heart. If ever there was music for the working class punk of today, it came out of Tim Barry's throat and guitar. Inspired by a woman in Florida who does this every time she sees Tim play, Tim led the crowd in a call and response chorus of "How's it going?" and "Fuckin' fine" with both middle fingers extended during "Walk 500 Miles." From that moment on I developed a much deeper appreciation for this songwriter.
Off With Their Heads! It had been a number of years since I'd seen them and within the last year I've started religiously listening to singer/guitarist Ryan Young's podcast, Anxious and Angry. I was pretty pumped for this set. They started off with Ryan expressing how happy he was to be a part of a bill like this one with so many acts that inspired him to do this in the first place. He mentioned that "In true Dillinger Four fashion" they had not played together in months. The set was quick fire and had tons of energy, tearing through songs from Home, In Desolation, with a sprinkling of tracks from Hospitals. This was the set where the crowd really kicked into high gear for the first time that day, and tumbled around in a frenzy, in sync with every word sung. For "Clear the Air," the last song of their set, Ryan put down his guitar and jumped into the audience to scream alongside us all. I walked away from that set feeling like I had gotten what I came all that way for. I was constantly reminded that there is so much more cool shit about to happen.

Todd Congelliere and crew started the first of their two sets for the day with Toys That Kill. When I told people I flew half-way across the country to see some of my favorite bands, most of them didn't get it. I feel like if they saw a Toys That Kill set, it would make perfect sense. I absolutely love the guitar tones that Todd produces. Every song was met with smiling faces and fancy feet. My favorite songs from Control the Sun and Fambly 42 burst from the stage. I jumped around screaming about how I'd been mobbed by the threes with the rest of the energized crowd as a beach ball soared over our heads. They ended on "They Tied Up All Our Lace" which made the audience go nuts. That song is the bookend music to Ryan Young's Anxious and Angry podcast that has seventy some episodes and I'm still not sick of hearing it. I'll take that track as a stand in for "Don't Stop Believing" any fucking day.
During the changeover I scoped out the Anxious and Angry merch and ended up talking to Billy from D4. Looking over the parking lot full of a few hundred people, he seemed a bit taken aback by the whole thing. I mentioned I flew out from Seattle for it just as Dave Hernandez from Scared Of Chaka went by and Billy introduced me. Even though we both live in the Emerald City, I still have never seen Dave's current band Little Cuts, or run into him anywhere. He greeted me with a hug and I said I had to miss their Seattle show since I flew out that very night. Just before he ran off to set up on stage, he smiled and said, "I think this one is going to be better anyways." Minneapolis loved Scared Of Chaka. It was a jittery dance party for their entire set. Even though they outright said it on stage, I could easily tell that they were all incredibly stoked to be playing again after so long. Nostalgia for this band welled up in me and I felt as content and carefree as the teen I was when I first heard them.
I retreated back to the showroom of the Triple Rock for more A/C. While hugging the chilled concrete walls of the venue, Paddy Costello walked by and I wished him a happy D4 birthday. Twenty-one years is a hell of a track record to be playing music with the same four guys.
I was about to see a band who started at precisely the same time and played numerous shows in Minneapolis with D4. Lifter Puller is a band I wish I knew as long and as intimately as I did the birthday band. It was only a few years ago that I was introduced to their music. The guy I was dating at the time was playing DJ one night and put on one of their songs. I was instantly drawn to Craig Finn's voice and lyrics. I was a little late to their set as I heard the opening chords resonating through the bathroom walls in my Midwest ice palace. I made a mad dash to the front of the stage to witness a set that I never thought I'd see.
LFTR PLLR played only eight songs but they were works of art rock poetry that easily packed the forty-five minute block of time allotted to them. With exaggerated arm movements and intermediate whistle blowing, Craig was incredible. The stage's barrier was fringed by die-hard fans who kept in step with every word. Their last set was twelve years ago when the Triple Rock opened. Craig shared a few stories of days of yore and effectively made it clear that D4 were the only ones who could coerce them into a reunion show.
Finally, the moment had come for me to see Dillinger Four for the first time. They rarely make it out to the Northwest and I've missed each time they have. The locals I talked to said they hardly play Minneapolis either, so everyone was just as stoked. For the next forty-five minutes I found myself shouting along to the lyrical genius while holding up crowd surfers. Strangers put their arms around me and sang along. Fists pumped emphatically in the air. Smiles abounded.

Contrary to their live reputation, D4 played tight and serious. That's not to say that there wasn't any goofiness. Early on in the set, Paddy requested that four shots of Jameson be brought to the stage. As Eric tried to decline, a hand clenching a fifth of Jameson emerged from the front of the crowd. Shots were cancelled and the band drank straight from the bottle. Don't let the six-foot-tall stage, barriers, and security guards fool you; we were still at a fucking punk show at the Triple Rock. They prefaced "Folk Song" as being about making your own success even if it's in a shitty town. Directly after that Paddy realized that Lifter Puller only got popular after they left Minneapolis and promised to never play that song again. Almost all the banter came from Mr. Costello—he thanked baby Jesus and proclaimed that Toys That Kill and Tenement are the best current punk bands in America. The only regret I have about their set is that they didn't play "Twenty-One Said Three Times Quickly" on their twenty-first birthday. Really guys? I thought that would be a given, now that they're twenty-oooooone. And I know that "Gainesville" is about Fest, but I couldn't help attributing every feeling in that ballad to the ones I was having at D4th. It felt like October in the summer.

Last band outdoors for the night: Against Me! They have been through quite the journey. It was both weird and exciting to notice the signs of their success—nice tour bus, great gear, no wear on the soles of their shoes. That's not to say I fault them for any of it; they're still out here in the heat of Minneapolis, playing for the punks. I met up with my bourbon-soaked-cherries friends from earlier in the day and snagged a good spot for AM! At that point, I took a look at the crowd behind me and just smiled at a parking lot full of hundreds of sweethearts who were having the best time. Maybe it was too many of Surly's 'Merica beers, maybe it was the close proximity of the one year anniversary of losing a good friend, but when they broke into "Dead Friend," I broke into tears. And I did it again during "Thrash Unreal." Lines like "If she wants to dance and drink all night, well there's no one that can stop her," and "No mother ever thinks that her daughter's going to grow up to sleep alone," hit real close and get me caught in a dichotomy of reckless fun and profound regrets.
With the exception of those emotional moments, the rest of the set was an absolute blast. Their set focused on the Trans Dysmorphia Blues record with quite a few classic jams thrown in. I think every era of their career was represented. The guy behind me accidentally whacked me in the head with his full beer during "Pints of Guinness Make You Strong" (apparently PBR pints do too) and I responded to his apology by singing, "I swear to god that I'll love you forever." Some of my favorite songs like "Sink, Florida, Sink," and "TSR" showed up at the end. Fireworks exploded behind Laura, making their set both the most romantic and most patriotic. I had seriously forgotten it was the Fourth of July until that point.
Someone in the crowd had an American flag that they spent the majority of AM!'s set holding above the audience. Laura didn't talk much during the set, but when she did it was to tease that dude about the moderate size of his flag. Something to the effect of: "You either see the standard huge flags, or tiny ones. Where do you get a medium sized flag?" As the sun finally set around 9-9:30, Against Me! wrapped up and left a parking lot full of people asking for more. In a matter of minutes, they came back for an encore, with Laura on acoustic guitar, including a cover of The Replacements' "Androgynous." For just a moment, I felt like a true Minneapolitan.
After Party: The Slowdeath, Comedians Rana May, Mike Brody and Jonah Ray, Underground Railroad to Candyland
Sizing up the crowd of those who'd made it through the whole fest, I quickly realized that all of these people were not going to fit into the Triple Rock's show space. So, sticking true to my tradition of running inside between bands, I secured myself a wristband for the after party. For whatever reason, the after party took forever to kick off. Maybe the staff was busy tearing down the stage outside, or cleaning up, or whatever. Either way it gave me time to connect with Marty and another Razorcake contributor Tommy Vandervort. I also got to chat with Ryan from Off With Their Heads for a bit, which was cool.

The Slowdeath came on after what felt like an hour of waiting, but it was totally worth it. It was my first time catching them and I'm not as familiar with their stuff as everything else. "The Opposite of Jesse's Girl" was the only song I could remember words to at this point. Jesse Thorson bullied his bandmates around stage, faulting them for being short, or old, or just plain dumb. It seemed like a thing they were used to.
The comedians were a nice change of pace. Mike Brody got heckled by Jesse, too, and they resolved it by quoting Black Flag lyrics. Jonah Ray stole the show though. He had hilarious material, rapped, and ended his set with a story of how he tried out for Underground Railroad To Candyland when they needed a drummer. Todd came out at this point and told him to reenact the audition. By the third beat, Todd yells "Nope!" The rest of Underground joined the stage and played the first song with Jonah, who wasn't half bad! Twelve hours of rocking my heart out started to catch up to me so I danced as long I as could stand it and finished out the last song on a barstool surrounded by a sea of abandoned drinks. There was a rainbow clown wig, a penguin suited trombone player, and a lion clad keyboardist. If I didn't have the pictures to back it up, I might not believe myself.
It was incredibly hard to leave the land of Hot Water Music tattoos, Ergs! T-shirts, and colored hair, especially after making so many new friends. To be truthful, I had a D4th emotional hangover for days once I got home. I commenced my Minneapolis trip with a visit to Extreme Noise to scope out some records. Among other scores, I found Against Me!'s Disco Before the Breakdown single and D4's More Songs About Girlfriends and Bubblegum—both of which are some of the earliest releases from those bands. It seemed fitting to fly back home with those. And speaking of the flight home, Scared Of Chaka was on my plane so I got to thank them in person for the best Independence Day I've ever had.
Take that, England!
/////////////////////
Kayla occasionally gets inspired / heated enough that she writes for herself instead of keeping it all in her head. Those moments can be found on her tumblr: Not Good Enough. Otherwise she writes for New Noise Magazine, Razorcake, and Skill Shot—a zine about pinball which is eight years old next month! She has also started a podcast about pinball that can be found here: Skill Shot Pincast. Upcoming guests include Ed Robertson from the Barenaked Ladies. Seriously! And in her free time, she's either playing pinball or cuddling the hell out of her cat Etsuko.