Had someone asked me to name a Bollweevils song last year, I'd have been at a complete loss. The name sounded familiar, but due to geography, accessibility, or poor timing, I had missed out on the legacy of this Chicago band. But recently, The Bollweevils were touring Southern California with fellow Razorcaker and buddy Tommy Vandervort. I was itching to get out of Seattle and had some vacation saved up. So I dove into weeks of research in order to not embarrass myself or insult a band who formed when I was four years old.
If I had the chance, I would tell the "me" of last year that I was in for a treat. What I found through this interview was a band raised on Naked Raygun, heavily steeped in DIY, with dyed-in-the-wool ethics. They're equal parts surly and sweet, abrasive and melodic, punk and Midwestern. Even after a seven year gap when Daryl went to medical school, they are thick as thieves, possibly closer because of it. Several times throughout the interview they were finishing each other's sentences. It didn't take long for all of us to forget there were cameras on us. Their show at the Viper Room later that night was a loud, in-your-face, energetic set that everyone in the crowd was pumped for.
The entire interview was filmed by a documentary crew. As we were being mic'd up, the band started by interviewing me instead. My fear and anxiety, all my stresses turned into jokes and laughs as soon as we started talking, and I instantly felt at ease. I guess you could say that I stuck my neck out on this one and totally won.
Interview and introduction by Kayla Greet
Photos by Patrick Houdek and Paul Silver
Daryl Wilson – Vocals
Ken Fitzner – Guitar
Pete Mittler – Bass
Pete Mumford – Drums
Tommy Vandervort – Roadie / Ding Dong
Ken: How'd you get into punk?
Kayla: I don't know, it sort of just found me. I always gravitated to music and weirdos.
Ken: Do you like any bands outside of punk?
Kayla: Yeah, The Jesus And Mary Chain are one of my favorites.
Mittler: Oh nice. I like them. I bet you guys are surprised to hear that.
Ken: Excuse me, but we're interviewing her, Mittler. You wait your turn.
Mittler: This is bullshit.
Ken: Have you ever been in love? [laughter]
Mittler: Wow Ken, you should do this for a living.
Ken: I'm thinking about it.
Kayla: I'm going to grab a beer then.
Ken: You notice when the love question comes up she runs away?
Kayla: I have to leave.
Ken: Welcome back. Whatcha got there? Is that your favorite beer? When did you start drinking?
Kayla: When I met you.
Ken: We're turning the tables here. Can we just interview you?
Kayla: Look, could you just shush for a second? [All laugh.]
Ken: I'm turning red now....
Mittler: This is the best. This is the most awkward Ken I've ever seen!
Ken: I'm really uncomfortable now. I really am. I'm starting to sweat.
Mittler: It's rare that someone can shut him up.
Daryl: He'll talk through anything.
Ken: I don't even want to talk about it 'cause it's hurting my feelings. I can't even look at her. I'm serious. [Filming starts.]
Kayla: So you guys started in 1989?
Daryl: Well, they started in '89. I wasn't in the band yet.
Kayla: Okay, go over the start of The Bollweevils. Let's get some roots.
Daryl: We lay down roots all over the place.
Ken: Myself and my buddy Bob started the band. Bob, our original drummer, was singing. We met Daryl at Naked Raygun shows. We all used to be in the front and we could hear him singing. I wanted his friend Paul to be in the band originally, but Bob's like, "No, Daryl's the guy." So we brought him a terrible demo tape and asked him to sing for us.
Daryl and Ken: [in unison] And the rest is history.
Mittler: [to Ken] Do you need a drink, dude? You don't look too good.
Daryl: He needs like, three more drinks. Well, in '89, though, we were just going to shows at the same time. We hung out and became friends because of music.
Kayla: You were teenage at the time?
Ken: Like nineteen, twenty.
Daryl: Right out of high school. We survived in the front together, through all the same shows; saw the same bands and figured we wanted to be those guys up on stage. We could do that, too. Then he gave me that demo tape, which was actually pretty good, but low quality.
Mumford: Do you still have it?
Daryl: I don't. I probably gave it away for free.
Tommy: Why did Daryl come in? What happened to the other two dudes?
Ken: Bob wasn't a very good singer so we decided we needed a singer. The original drummer actually played our first show with Daryl and decided that he wanted to do a pop band. He just kind of disappeared and we don't know where he is.
Daryl: We'd go see Naked Raygun all the time and see these guys on stage, and then all of a sudden Ken goes, "We're opening up for Naked Raygun. This is your first show." I'm like, "Yeah, you're full of crap. You're lyin'." And we did, at The Metro.
Ken: We went over really well, which was amazing.
Daryl: But we went from this touch of greatness playing with Naked Raygun to playing basement shows, VFWs, and things like that. Gradually built up a fan base.
Ken: It was pretty much play wherever you can. There was no all-ages spot but McGregor's....
Daryl: Church of McGregor's.
Ken: ....that was the only place and we were kind of...
Daryl: Ostracized. Because we were a city band and that's where suburb bands played. We weren't a suburban band.
Kayla: They just put that schism up?
Daryl: Pretty much.
Ken: So we decided that we'd make our own scene.
Mittler: Chicago was always like that.
Ken: We just started playing anywhere we could.
Kayla: That's the thing about punk. It gives you these building blocks for figuring out how to accomplish your goals by any means necessary.
Mittler: Do it on your own. DIY.
Mumford: Absolutely.
Kayla: Doing it together is better. So I have a fun question about another person who was in the front at Naked Raygun shows. Do you guys remember a band called Buzzmuscle?
Daryl: Yes we do!
Kayla: I'm friends with Greg Dunlap who played in that band. He saw that I was coming out to this and said something like, "Oh man, those guys ripped off my 7" art a long time ago." [All laugh.]
Ken: I wouldn't say we ripped it off.
Daryl: Well, we would see them play and we knew the guys in the band, so we were just kind of making a joke.
Ken: They opened up for every band coming through and we were like, "What about these young bands who are coming up? Why can't we play with these bands?" Again, we were kinda out of that loop in a lot of ways.
Daryl: They had the Assembler EP.
Ken: Everyone made a big deal about it and it was probably the best looking 7" I've ever seen in my entire life.
Kayla: Did you know that it was as a National Treasure? (Smithsonian Institution's National Design Museum in New York City. The record became a part of their permanent collection, joining other National Treasures such as the Apollo 11 spacecraft, the original copy of the Constitution.They're tax exempt for life because of that.)
Daryl: They played a lot with the Defoliants and we'd yell out Defoliants' songs. Then, one day they snapped back at us, saying some stuff. So they threw down the gauntlet and we had the Disassembler EP with our fake artwork.
Kayla: It said: "Thanks to Buzzmuscle for reminding us that great packaging doesn't always make a great record." [All laugh.] I read that Greg walked into a record shop and the guy at the counter was kind of eyeing him suspiciously. Then he gets over to the 7"s, picks it up, and just busts out laughing.
Daryl: At least he had a sense of humor.
Tommy: So you were a surly band from day one.
Ken and Daryl: Oh, yeah. Very surly.
Kayla: I read an interview with Rob from Buzzmuscle who said: "What would cause one puny unheard-of band to waste an entire cover art opportunity on insulting another puny unheard-of band's work?"
Ken: Because it's fun. Actually I told them it was fun and we thought they were a bunch of idiots.
Kayla: You just like bustin' balls?
Daryl: Yeah, we like bustin' balls.
Ken: I used to until about five minutes ago. I used to love bustin' balls, but not anymore.
Kayla: What happened?
Daryl: Some girl just shot him down.
Ken: That never happens.
Daryl: Never. It's like a sign of the apocalypse.
Ken: I'm getting some anxiety right now. [All laugh.]
Kayla: We can talk about it later if you want.
Ken: No, I can't.
Mittler: He's sad.
Kayla: So the first run of Bollweevils was '89 to the mid-'90s and then Daryl, you were in med school towards the end of that?
Daryl: I started in '92 and we played all throughout my medical school. I always had some time to play. I'd be in a rotation and have ten days off, so we'd go on tour. Walking out of the doors, I'd get in the van and go. And I'd come right back and start again. It was a constant thing of either being in med school or playing in the band. That's all I did.
Kayla: It probably helped set you up for the ER work in a way.
Daryl: It was a point of a lot of sleepless nights and eating really poorly. We'd be really busy and crazy, but those were some of the best times of my life. I lived in this little shoebox apartment. We'd have ten guys over there at any given time and any free moment was spent going to a show with these guys or studying. Or something else if I ever had a girlfriend, but I rarely did.
Kayla: Well, when you hang out with Ken, it's got to be pretty hard to meet girls. [All laugh.]
Mittler: I love her. I fuckin' love her.
Ken: Hey Pete, what do you know about me?
Mumford: This guy is the best kisser in the whole wide world. Just one kiss from him, and it's over.
Mittler: How do you know that?
Mumford: Experience.
Kayla: You saw him practicing in the mirror once.
Daryl: With his hand.
Ken: I mean, I can't catch a break here.
Mittler: It's awesome.
Daryl: Our heyday was pretty fun. Between med school and touring, we built up a following. This is like, going on in twenty years of playing out here (in Southern California). We did that in the time I was in medical school.
The hard part was that we had all these opportunities, and my life was the limiting factor. We had opportunities to go to Japan, Europe, Hawaii. We couldn't go. I know at the time it wasn't really understood as to why I couldn't do it. We did, unfortunately, have this big falling out because of it, but we realized it was kind of stupid. This was something we shared so closely. I mean, Ken came around later on. I've had a longer relationship with you guys than any other person, besides my family. It was hard man, it was really hard.
Ken: Well, I love you man.
Daryl: I love you too. I tell you that every day. ["Awwws" from the group.]
Kayla: Okay, so then you signed to Dr. Strange.
Daryl: That was because Underdog Records didn't want us to put out a record.
Ken: It's an interesting story.
Daryl: Everyone who crossed us is now gone! That sounds all wrong.
Ken: We were part of the Underdog Collective, which was an underground, DIY, non-profit, help-the-scene kind of thing. We'd go over there and stuff 7"s....
Daryl: Screen print shirts....
Ken: …and just work really hard. There was a band that they thought would make way more money than us. So we were in line to put out a record and they wanted this other band to do it. At the same time, I had been writing and calling Dr. Strange because he was a cool guy and I collected records. I sent him our stuff and he was like, "Man I really want to do a record with you." He had Face To Face on the label, Guttermouth, Voodoo Glow Skulls, Rhythm Collision—who were good friends of ours—so it was just a natural fit.
Daryl: Underdog wasn't working out so we said, "Cool, we'll go out to California and do this." That's when things really sort of took off. We were considered, of course, turncoats to Chicago, but we never really were California. It was like us and 88 Fingers Louie had a whole new thing where we were "Epitaph" (too associated with a certain brand of Southern California punk popular at the time, though not on the label) and we weren't Chicago.
Kayla: There's just no reason to draw lines in the sand about who does what with who.
Ken: I don't know, that's kind of Chicago in a nutshell.
Kayla: Do you guys do that to other bands? Other people?
Ken: No. We were actually the exact opposite. Our goal was to get bands to come in whether they were local or like The Freeze from Boston, or Doc Hopper. Basically we'd set up the show and it'd be a nice big show and we'd sit down afterwards and split the money four ways. Didn't matter if you were the opening band or the headliner. That was really important to us. Not a lot of bands in Chicago did that at all.
Mumford: That's how I met you guys.
Ken: That's right!
Mumford: I'm sure you're itchin' to hear about how I got into the picture here, so lemme tell ya. [All laugh.] So I was in that Chicago band (The Four Squares) and I met these guys in the mid-'90s. And they were asked to play a reunion show in 2003 for a local radio station, a benefit show. Luckily for me, they asked me to fill in on the drums and thirteen years later here we are in California.
Ken: You're the longest tenured drummer of the band.
Daryl: You're the best.
Ken: And the best drummer.
Kayla: It's rough for drummers. Bands are always looking for them. I mean, guitar players are a dime a dozen. Everyone wants to be a frontman.
Mumford: I think that used to be the case more back then. Yeah, there were like three of us in Chicago.
Kayla: And you probably played in three different bands.
Mumford: Right, exactly. But now, man, there's so much talent. The kids comin' up right now kick my ass, to be honest. There's so many talented people and yeah, there's a lot more drummers.
Daryl: But we only want you as a drummer.
Mumford: Well, thank you.
Kayla: With Naked Raygun being such an inspiration to you guys, do you feel like you're on the other side of that coin now—where you're helping other bands come up or they're looking at you guys for inspiration?
Daryl: Nah. I mean maybe there's some.
Ken: First of all, we don't really care about that stuff, to be honest. And the second piece is that there was a bit of a tighter knit community so bands really helped each other. Now it's competitive. It's easy to record music, it's easy to put your songs online, people are booking tours and they have the time and means to go on tour for three hundred days a year. So they don't need help. We need help from them most of the time.
Daryl: As technology grows and people can do things on their own, you don't have to go to a big studio to record anything.
Ken: We used to do a newsletter. We literally had a mailing list. I would handwrite this newsletter and talk about all the cool bands we played with. We would send it out to maybe one hundred and fifty, two hundred people, and I'd be licking stamps. The cool thing is someone said they still had all the old newsletters. There wasn't Facebook, so you kind of had to build it up on your own.
Daryl: Back then you had limited choices so you went to see those bands. You learned about bands because of the liner notes in the records, the bands we played with, the bands that we thanked. Or cover a song by a band and someone says, "Oh I never heard that song before until you guys did it," and that revitalizes something. That doesn't happen anymore. You can hear three bands that sound the same and have to pick between them. It's competition. It's tough.
Kayla: I also wanted to ask you with all your medical training, I'm sure you've seen plenty of accidents at shows like busted heads or broken fingers.
Daryl: Most of the time it's me, actually.
Mittler: No one gets hurt more than him.
Daryl: It's me filing the injury report for myself most of the time. It's a contusion here, it's an injured finger there, it's a cut here, or my back gets thrown out. Other people get injured and it's like, I'm not working right then so I can't help them.
Ken: That's not true, I've seen you help people. Usually it's over drinking.
Daryl: People over-imbibe and it is something. We have to be concerned about their well being. People fall down, they get injured, or they start vomiting, and you have to get them somewhere safe so they're not going to be harmed.
Ken: Usually we grab their insurance card first. That's our side business. [laughs]
Daryl: Right. "Humana? Nah, I don't take Humana. Can you call your network person right now?" But it is one of those things where you have to be cognizant of being injured or hurt. We do—well, I do—a lot of stupid things on stage.
Kayla: High jumps?
Daryl: Well, the high jumps aren't the problem, it's the jumping off of the stage which is the issue. Running into a crowd of hostile people is kind of the issue.
Ken: Punching the ceiling.
Daryl: Punching ceilings. My hands are what I use for my livelihood. But you get caught up in the moment of these things and suddenly afterwards I'm going, "What the hell? Why does my hand hurt so much? Oooh, I know why—it's bloody because I've been punching this glass ceiling that won't break."
Kayla: Hey, I've been punching that same glass ceiling.
Ken: Or you jump into the crowd and everyone moves out of your way.
Daryl: One of those moves where you calculate like, "This looks like a good spot to jump into," and then nobody's there.
Mumford: The parting of the sea, and then there's Daryl.
Daryl: "I thought I got up really quick but I was down for a minute and a half. Totally fine, my concussion's alright!"
Tommy: Now there's a couple bands that don't want people stage diving. Being a doctor—but since you do abuse yourself for punk rock—where do you fall on that stance?
Daryl: On stage diving?
Tommy: Yeah. Some bands get real upset. If someone gets on stage, that's a fuckin' shut down. Coming from the old punk rock days, are you going to say no?
Daryl: Well, that's how we got banned from the Metro for a while because we had people up on stage, stage diving. They told us we couldn't do that. Then they had a whole protocol in place when Pennywise came there to say, "Don't do a Bollweevils thing." But we had people stage diving and they told us if that happens, they're shutting it down. I said, "Well, don't kick people out." What happened? Stage dove, there was a fight, and people got kicked out. Then we got angry, surly. We started saying things, there was a little altercation, war of words, microphones were thrown, and then we were banned.
Tommy: Instead of it being, "Dive at your own risk."
Daryl: Here's the thing, though—now that I'm a man of means in this whole world—I understand the liability risks associated with that.
Tommy: Sure.
Daryl: So I understand that. Now, would I want my daughters to stage dive at a show?
Ken: Yes.
Daryl: No. I don't even want them standing on a freakin' table at our house. I yell at them for that. But they see daddy doing that so how do I police that? Freedom! Too much freedom!
Mittler: Bastards.
Kayla: You guys recorded Stick Your Neck Out at Sonic Iguana with Mass Giorgini. And he was doing a lot of the Lookout! stuff at that time, right?
Ken: He wasn't doing a lot of it yet. In fact, I think he was just fixing up his studio. He did a Screeching Weasel record, and I don't really know how we even connected with him. He was in Lafayette, Ind. and his band Rattail Grenadier would play Chicago sometimes. So we called him up and booked studio time, and it was awesome. We had so much fun recording with him.
Daryl: Mass is a great guy. Of course, you go there and the guy wants to talk about what you play in the band.
Ken: Oh yeah, it was fun. After that, mostly because of him recording the Screeching Weasel stuff, there was a flood of bands who came in. We also played with a ton of bands in Chicago that we'd send to him.
Kayla: Spread it by word of mouth. He's done a lot of really seminal records that will be classics forever.
Mumford: Kind of like The 4-Squares and Toucan Slam split. [All laugh.] Pretty sure that was exactly the album she was thinking of.
Kayla: Do you guys feel like you've changed your writing style over the years?
Mittler: We've gotten better.
Ken: Probably more skilled.
Mumford: Less prolific.
Daryl: I mean, we're not as angsty.
Mumford: We're still pretty surly.
Daryl: I'm surly, but not angsty. The things that I write now are unrequited love songs. We write about this redemptive kind of "you get beat down but you can always make it out" kind of situation. Always think of yourself first instead of the things that are going on. Ken's a thousand times better guitar player. All the songs he writes—you can tell a hit when he writes a hit. We've got one of the greatest drummers around. We've got one of the best....
Ken: We've got a good bass player.
Mittler: Everything's better with Mittler.
Daryl: He was our roadie on our first tour, by the way.
Ken: Him and Joe...
Daryl: From Rise Against...
Ken: 88 Fingers Louie. They were our first roadies.
Daryl: So you can be a roadie and become a big star.
Ken: We went all the way out to California. We were going to do it anyways, but we wanted to play for Dr. Strange. He just wanted to see us live.
Daryl: This other thing that's happened as we've gotten older is that we're not as sensitive of criticisms anymore. Before, it was like there was no way you could tell anyone that their part was crap or the lyrics you wrote are bad. Now we're willing to take input from everybody to say, "You should probably play it this way," or "This sounds better." And because we've been in a band together for such a long time, we already know the little nuances of what you're gonna hear when you play. So Ken could start playing some notes and I know exactly what he's going to play next, or how he might want me to sing it.
Kayla: You guys have done a Vulcan mind meld, huh?
Ken: Little bit.
Daryl: We're very close. Seriously, I love that guy. It's twenty-seven years of friendship. Can't beat that.
Kayla: After you guys split up, what was the spark that got it back together? What rekindled your love?
Daryl: He came around and wanted to do another band. My wife had been talking about it, too. Like, "How is it that you guys have been friends for twenty-some odd years and you don't talk to each other? That's so juvenile and stupid. You guys are adults. You can talk to each other."
Ken: Yeah, but life was getting in the way at that point.
Daryl: It was. But then you had stuff happen and you realized what it was. How I had pressures to do these things and it made more sense.
Ken: I became a teacher and then a principal. I get it now—that there's other things besides playing in punk band.
Daryl: But you can have all that, too.
Ken: Not a lot of other things.
Daryl: Not a lot. But I mean, he got back with me; we started playing music again. It was fun because I missed my friend. That was the thing, beyond just playing in a band. This whole tour thing is awesome because I'm out with my friends having a great time. We could get in any situation and it's still fun. We bust balls on each other and laugh about stuff, but these are experiences that will last forever. The experiences from our first tour last to this day, and we still laugh about it.
Mittler: I was with them on their first tour as their driver, but I wasn't really a roadie 'cause I was like, "I ain't movin' your stuff. I'll drive you, but I'm not movin' it."
Daryl: And that allowed him to become the union worker he is today.
Mittler: That's right. I'm union man, I've got one job and that's what I tell 'em. I don't do these other jobs. That's why you hire another guy! But we were driving through the hills the other day like, "Hey, remember we were driving this same road coming from San Francisco to L.A.?" The van broke down and we got ripped off by this crazy German fuckin' mechanic guy who, right in front of us, says, "You need a new radiator." He turns around, picks up the phone, and calls the shop for the parts and says "Ja, what is the most expensive one you have?"
Kayla: No he didn't!
Mittler: I'm like, "Dude, I'm right fuckin' here! I can hear you!" [all laugh]What a fuckin'.... I'm still—now I'm mad! [laughs] Now I'm mad.
Kayla: Ken, you're a principal? Do your students ever see you playing shows?
Ken: They YouTube it all the time.
Kayla: Do they give you shit about it?
Ken: No, they usually like it. In fact, one of my good friends is a music teacher and that's one of the things he teaches in class. They learn one of our songs.
Mittler: Really??
Ken: They do "999 Stoney."
Mittler: Can he teach it to me? [all laugh]
Ken: I get really embarrassed about it. I remember one guy came in from the district and I was meeting with him about teacher mentoring. He just stopped and was staring at me. It was really uncomfortable and he's like, "I know you." So I go, "Oh you do? Did we go to Professional Development together? I used to work in the office of Academic Enhancement. Is that where?" And he's like, "No, I used to go see your band The Bollweevils when I was a kid. In fact I lost a tooth at your show at the Fireside." Things like that happen all the time.
Daryl: I get that in the hospital occasionally, which is really uncomfortable. Before we left for tour, a guy came to me sick with bronchitis. I walk into the room and first thing he says is, "You're Daryl from The Bollweevils!"
Kayla: That's Doctor Daryl to you!
Daryl: Doesn't start the whole conversation well, because now I'm thinking, "What's he gonna ask for? How's the conversation going to go?" I just want to take care of your health at that point. I don't want to talk about rock'n'roll and jumping around on stage.
Ken: Yeah you do.
Daryl: Okay, truth be told. Then the nurses go, "Oh wow! He recognized you?"
Ken: In fact, sometimes patients come in and he's just like, "You may recognize me. I'm Daryl from The Bollweevils."
Daryl: "Yes, your doctor is Daryl from The Bollweevils today. We have a few selections from Stick Your Neck Out..."
Kayla: "Before you stick your neck out!"
Mittler: "If you buy this CD, you'll get premium health care."
Daryl: "Wait, United Health Care again? No, go to the back of the line." But we do get recognized sometimes. I had a kid when I was in med school—I was in the ER and his dad was having a heart attack. The kid was just staring at me as I'm saying, "Dad's had a heart attack and we're gonna get him down to the cath lab," and he goes, "But you're Daryl." Like, "Well, this is not relevant to the situation. Your dad doesn't give a rat's ass about me and he's gotta go to the cath lab." "But dude, you took care of him. You saved my dad's life! Awesome."
Ken: I know particularly for me and Daryl, our career choices are based out of punk rock. I wanted to give back to the community, I wanted to do something that made a difference. So did Daryl. To us, that's really important.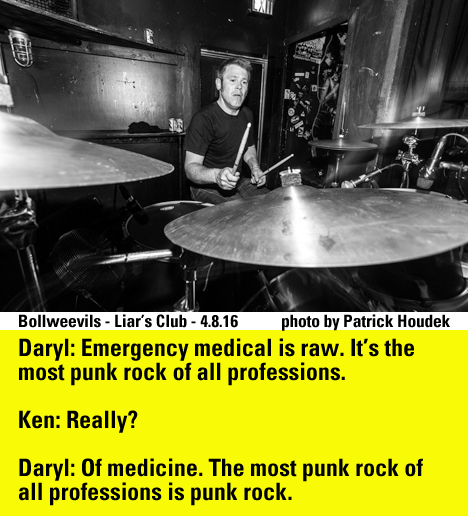 Daryl: Emergency medicine is one of those professions where you take care of people regardless of their ability to pay, their sexual orientation, creed... we don't care about that stuff. It doesn't matter. You take care of everybody, it's hardcore, bad stuff happens—you just get it done. And that's kind of punk rock—you get it done. It's hardcore, it's bloody, it's raw. Emergency medical is raw. It's the most punk rock of all professions.
Ken: Really?
Daryl: Of medicine. The most punk rock of all professions is punk rock.[all laugh]
Mittler: Have we side railed you enough yet?
Kayla: Oh, no, this is perfect. I don't have much else. Did you guys have anything else you wanted to bring up, or share? It's a safe space here.
Ken: It is not a safe space here. It certainly is not. [laughs]